Full-Automatic Wire Flattening Machines Manufacturer
A high-precision flat wire rolling mill
Manufacturer: Sky Bluer Environmental Technology Co., Ltd
Brand: CRM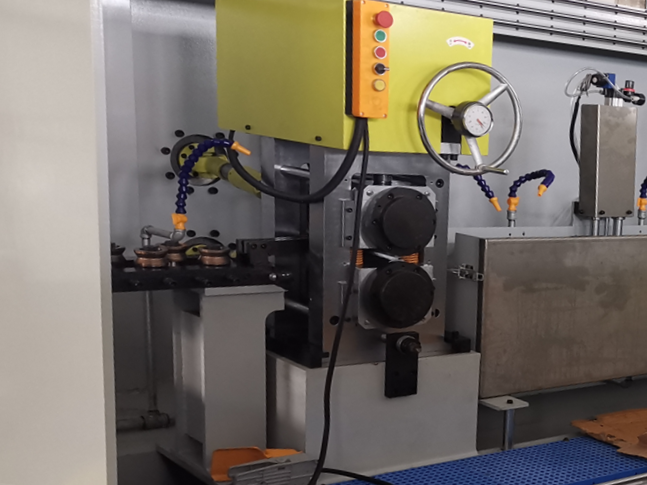 Performance Parameters of

Full-Automatic Wire Flattening Machines Manufacturer
(1) Range of input material: 1-5.5 copper round wires.
(2) Number of round wire drawing dies: 1 die/MAX.
(3) Rolling range: Dia.180MM rolls, rolling ratio within 6, (finished product aspect ratio 6/MAX).
(4) Mechanical speed: 350RPM/Max.
(5) Range of rolled products: width 2-8MM, thickness 1-3MM.
(6) Wire drawing range: the area reduction rate is less than 25%.
(7) Number of rolling mills: 1.
(8) Drawing dies: 1 set for round wire drawing + 2 set for flat wire drawing.
(8) Outer diameter of flat capstan: 750mm, round capstan 600mm.
(9) Die outer diameter: 40MM.
(10) Round drawing machine motor: 4KW deceleration motor and 4KW (sinusoidal) tension type inverter.
(11) motor for rolling mills: 7.5KW AC motor and 7.5KW (sinusoidal) tension type inverter, or 3KW*2 servo + reducer direct drive (sinusoidal) synchronous controller.
(12) Flat wire drawing motor: 5.5KW reducer AC motor and 5.5KW (sine) tension type inverter.
(13) The high wear-resistant tungsten steel material is precisely processed, and the roll hardness is processed by ultra-fine tungsten steel with the highest hardness HRA92.9-93.5 in China. The outer surface roughness is RA=0.012-0.025 microns, and the shaft runout is less than 0.001 mm.
How Else Can We Help You?
Wire Flattening And Shaping Lines Machine For Flattening Copper Wire Wire Shaping Lines For Carbon Steel Wires Flat Wire Rolling Mill Copper And Aluminum Flat Wire Drawing Machine PV Ribbon Machine With Tin Coating Lines Micro Rolling Cassettes Titanium Alloy Wire Drawing Machine Profile Wire Rolling Lines For Piston Rings Copper Strip Rolling Mill Ultra Precision Rolling Mills Flat Magnet Wire Equipment
Contact Us Today
Email:[email protected]
Mobile/Whatsapp:+86 13861313954
Website: https://precision-rolls.com/Products/
---
Previous:
Rolling Lines For Flat Magnet Wire
---