Nickel Wire Drawing Machine
Lines For Making Nickel And Nickel Alloy Wire Of Various Shapes
nickel wire drawing machine with cold rolling cassettes
Manufacturer: Sky Bluer Environmental Technology Co., Ltd
Brand: CRM
A nickel wire drawing machine is a specialized industrial machine used to draw, pull, or roll nickel wire through a series of cold rolling cassettes in order to reduce its width and thickness and improve its mechanical properties. Nickel wire is drawn using progressively smaller cassette roller dies to achieve the desired thickness, width, and finish.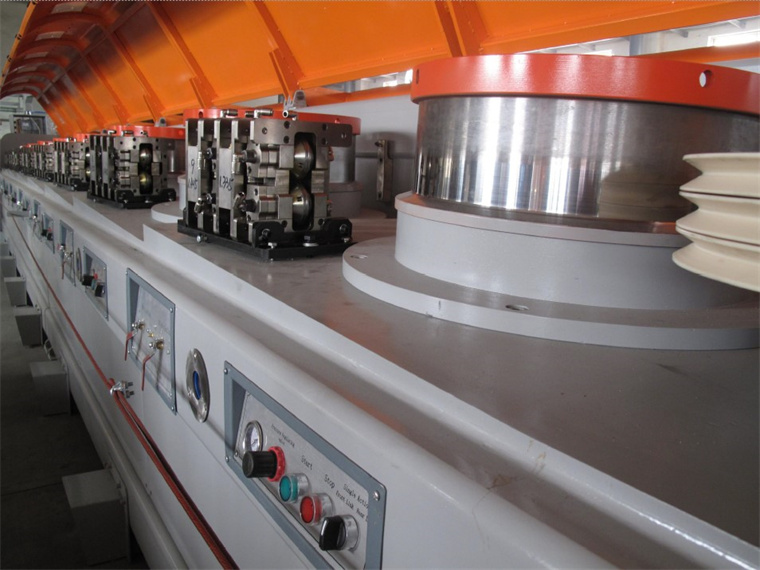 Production Line Composition of N

ickel Wire Drawing Machine
Hydraulic reversing pay-off stand→ inlet wire guide position →3 stand precision rolling machines→ dancers #4→on-line caliper→ straightening device→ wire takeup machines
Specifications:
1. Designed speed: 0-50 m/min
2. Shapes: Flat Wire, Flat wire with natural angle, rectangular wire, square wire, round wires
3. Input Material: nickel, nickel alloy
4. Input size: Calculated according to the size of the final product
5. outlet size:1.5-0.15mm
6. Three groups of voltage ~3*380V AC (±10%) Frequency: 50HZ
7. Control voltage:24 V
8. Lubrication method: coolant spray
9. quantity of cold rolling cassette:6 sets
10:Wire winding method: precision wire transverse
Features of Nickel Wire Drawing Machine
1. The coil of the wire rod shall be placed on the un-coiler using shop floor load-lifting equipment.;
2. All equipment making part of the Line shall be synchronized and enable adjustment of drawing rate from 0.5 m/sec to 5.0 m/sec
3. Manual processing mode shall be available and protected with the password;
4. automatic diameter and out-of-width and thickness measurement system
6. Wire deformation method shall be cold rolling. Wire die can be used at the last stage for final sizing.
7. roll and die change shall be pack-type. Tool change system shall be easily accessible and equipped with quick-release connections.
8. The Line shall be equipped with the system able to scan the QR-code and put it on a tag that is attached to the finished coil after drawing. QR-code capacity shall be limited to 80 characters.
How Else Can We Help You?
Wire Flattening And Shaping Lines Machine For Flattening Copper Wire Wire Shaping Lines For Carbon Steel Wires Flat Wire Rolling Mill Copper And Aluminum Flat Wire Drawing Machine PV Ribbon Machine With Tin Coating Lines Micro Rolling Cassettes Titanium Alloy Wire Drawing Machine Profile Wire Rolling Lines For Piston Rings Copper Strip Rolling Mill Ultra Precision Rolling Mills Flat Magnet Wire Equipment
Contact Us Today
Email:[email protected]
Mobile/Whatsapp:+86 13861313954
Website: https://precision-rolls.com/Products/
---
Previous:
Stainless Steel Wire Drawing Machine
---