Stainless Steel Wedge Wire Machine
Lines For Rolling And Drawing Stainless Steel Wedge Shaped Wires
Manufacturer: Sky Bluer Environmental Technology Co., Ltd
Brand: CRM
Stainless steel wedge wire machines are specialized industrial machines designed by us for making stainless steel wedge wire, wedge profile wire, tear-drop wire, pentagon wire screens or profiles. There are many applications for wedge wire screens, including filtration, water treatment, mining, food processing, pulp and paper, and architectural design.
Machine for drawing V-shaped wires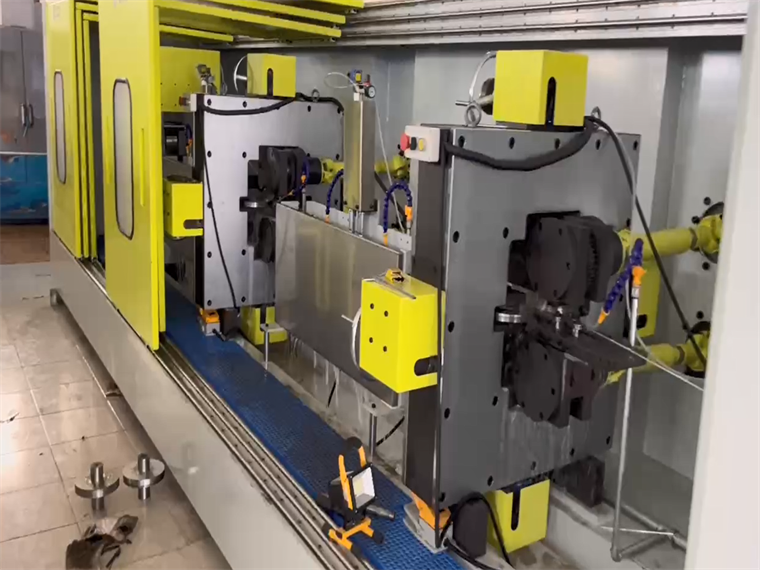 Production Line Composition
Round wire"Payoff unit"#1 Flattening rolling"Tension control"#2 turks head mill"tension control "#3 turks head mill"tension control "#4 turks head mill"tension control "spool takeup"online measurement unit
1. Designed speed: 0-350 m/min
2. Shapes: wedge profile wires, rectangular wire, square wire, round wires
3. Input Material: stainless steel wires, nickel, nickel alloy
4. Input size: Calculated according to the size of the final product
5. Outlet size:1x2,1.5x2.5mm
6. Three groups of voltage ~3*380V AC (±10%) Frequency: 50HZ
7. Control voltage:24 V
8. Lubrication method: coolant spray
9. Quantity of cold rolling cassette:6 sets
10. Wire winding method: precision wire transverse
11. Application: triangular wire and special-shaped stainless steel wire rolling and drawing
Processing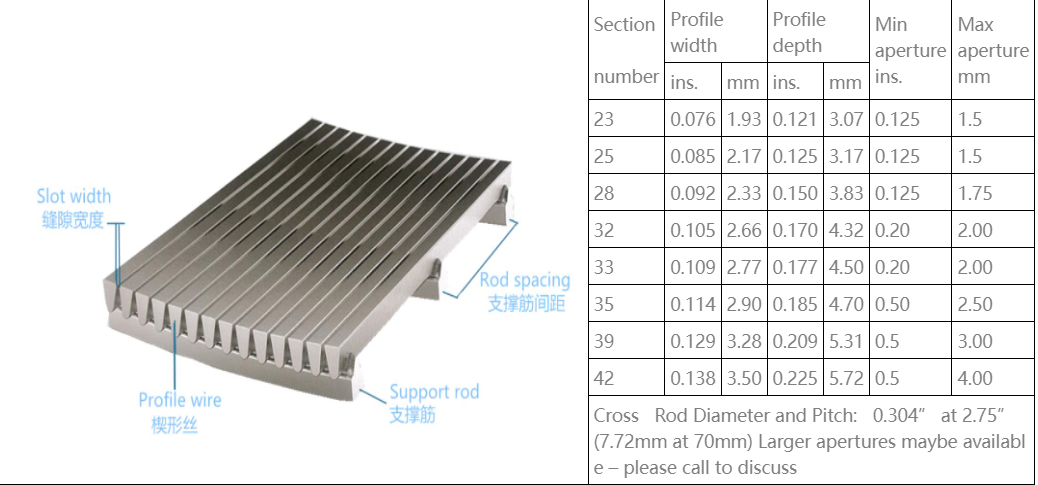 WEDGE WIRE-PROFILE DIMENSIONS, CROSS ROD DIAMETERS AND PITCH



Section number

Profile width

Profile depth

Min aperture ins.

Max aperture mm

ins.

mm

ins.

mm

23

0.076

1.93

0.121

3.07

0.125

1.5

25

0.085

2.17

0.125

3.17

0.125

1.5

28

0.092

2.33

0.150

3.83

0.125

1.75

32

0.105

2.66

0.170

4.32

0.20

2.00

33

0.109

2.77

0.177

4.50

0.20

2.00

35

0.114

2.90

0.185

4.70

0.50

2.50

39

0.129

3.28

0.209

5.31

0.5

3.00

42

0.138

3.50

0.225

5.72

0.5

4.00

Cross Rod Diameter and Pitch: 0.304" at 2.75" (7.72mm at 70mm) Larger apertures maybe available – please call to discuss
How does Stainless Steel Wedge Wire Machine work?
The stainless steel wedge wire machine is designed to manufacture wedge wire screens by winding profiled wires (often made of stainless steel) around support rods in a spiral pattern. As a result, a continuous slot is formed that allows liquids or solids to pass through while retaining the desired particles.
Stainless steel provides corrosion resistance, strength, and precision filtering capabilities in a wedge wire screen. Material selection and the shape of the wedge wire can be customized based on specific application requirements.
Stainless steel wedge wire machines play an essential role in producing these screens efficiently and accurately for a wide range of industrial processes, including dewatering, sizing, and separating solids from liquids.
How Else Can We Help You?
Wire Flattening And Shaping Lines Machine For Flattening Copper Wire Wire Shaping Lines For Carbon Steel Wires Flat Wire Rolling Mill Copper And Aluminum Flat Wire Drawing Machine PV Ribbon Machine With Tin Coating Lines Micro Rolling Cassettes Titanium Alloy Wire Drawing Machine Profile Wire Rolling Lines For Piston Rings Copper Strip Rolling Mill Ultra Precision Rolling Mills Flat Magnet Wire Equipment
Contact Us Today
Email:[email protected]
Mobile/Whatsapp:+86 13861313954
Website: https://precision-rolls.com/Products
---
Previous:
Nickel Wire Drawing Machine
---