Wire Shaping Line
Manufacturer: Sky Bluer Environmental Technology Co., Ltd
Brand: CRM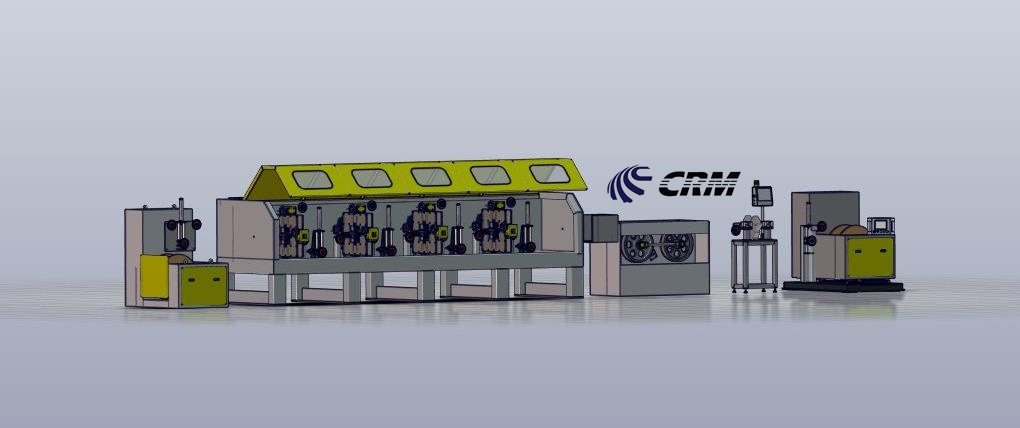 Specifications of wire shaping lines:
Designed speed: 300 m/min
Input Material: stainless steel, titanium alloys, aluminum alloys, carbon steel alloys
Input size: Φ1-12mm
Standard Shaped Wire Size Range:
Thickness: 0.004″ x 0.50″
Width: 0.012″ x 2.500″ (size capability may vary based on alloy, copper, carbon steel, stainless steel, precious metal, titanium wire grade of steel, and print requirements)
Maximum cross section of final product: 28mm2
Shapes: Flat Wire, Square Wire and Shaped Wire
Weight limit for take-up: 2 Ton
Applications: gaskets & seals, header bar, medical shapes, orthodontic wire, wedge wire, jet engines, heat exchangers, aerospace engine components, oil & gas well screens
Roll size for wire flattening mills: 180x80mm
Roll size for Profile universal mills: 200mm by 25mm
Corner rounding: Based on the drawings provided by the customer
Method of roll adjustment: Electric + hydraulic pressure or manual
Roll material: Aircraft-grade tungsten carbide steel
Method of payoff: Fully automatic
Method of winding: Fully automatic
Drives: Dual servo drives are used in the roll drive
Degreasing system: Utilizes air knives for oil blowing and scraping degreasing
Auxiliary Equipment

of wire shaping lines
1. Centralized lubrication system
2. Cooling system
3. Online laser measuring instrument for simultaneous measurement of width and height
4. Straightening and cutting machine
5. Sanding Machine
6. Butt Welding Machine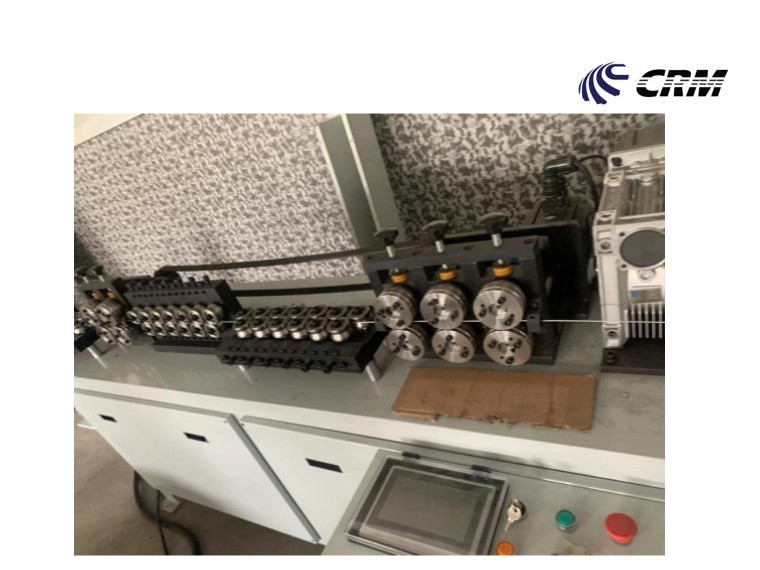 Please note that the specifications provided above are subject to industry standards, material compatibility, and specific customer requirements.
Composition of the production line:
Payoff Unit→ Flat Rolling Mills →Dancers →Side Rolling Mills + Dancers → Universal Profile Wire Rolling Machines→ Precision Winding Unit→Straightening and cutting machine
Why do we need a standard wire rolling mill for profile wire?
Wire Shaping Lines are precision rolling machines that are used in the production of shaped wires. There are a variety of wire cross-sections that are shaped, including flat, rectangular, square, wedge profile, and custom-shaped wires. This Wire shaping production line designed for mine filter screen, mainly used to produce triangular wires and wedges.Our cutting edge shaped wire rolling mill lines allow us to meet your company's demanding dimensional tolerances. Almost any wire profile can be custom manufactured by us.
How Does Our Wire Shaping Line Differ From Other Wire Shaping Lines?
A testament to our commitment to excellence is our Wire Shaping Line. We adhere to the best manufacturing practices, ensuring precision, durability, and reliability during every step of the production process. A quality control system and state-of-the-art technology ensure top-notch performance on this line.
China-made: Our factory, strategically located in China, benefits from the country's industrial expertise and resources availability, making us one of the leading players in the Chinese manufacturing landscape. In addition to meeting international standards, we offer innovative and cost-effective wire shaping lines that provide a competitive edge.
Competitive Pricing: Knowing how important cost considerations are in today's market, we have designed our Wire Shaping Line so that it is an economical solution without compromising quality. Our pricing strategy is designed to provide exceptional value for your investment, making it an economically sound choice for businesses looking to enhance their wire shaping processes.
Cost-Efficiency in Operation: Beyond the initial purchase cost, our Wire Shaping Line excels in operational cost-efficiency. It is engineered for optimal performance, reducing energy consumption and minimizing maintenance requirements. This ensures that your overall cost of ownership remains low throughout the lifespan of the equipment.
Factory Insights: Our manufacturing facility boasts a team of skilled engineers and technicians dedicated to pushing the boundaries of wire shaping technology. The factory is equipped with modern infrastructure, fostering an environment of innovation and continuous improvement. We prioritize sustainability and environmental responsibility in our production processes.
We are committed to providing the best-in-class solutions, which is why our Wire Shaping Line is available. Whether you are a small business or a large industrial enterprise, our product promises to enhance your wire shaping capabilities with efficiency, precision, and cost-effectiveness.
Contact Us Today
Email:[email protected]
Mobile/Whatsapp:+86 13861313954
Website: https://precision-rolls.com/Products
---
Previous:
Straightening and Cutting Machine
Next:
Strip Rolling Mill
---