Copper PV Ribbon Machines
Full-Automatic Copper PV Ribbon Machines
Manufacturer: Sky Bluer Environmental Technology Co., Ltd
Brand: CRM
The copper PV ribbon production line, also referred to as the photovoltaic ribbon production line with tin coating lines, is a specialized industrial equipment used in the production of solar panels. These machines are designed to produce copper ribbons, or round wires, which are thin strips of copper used as electrical connectors within solar panels. In order for electricity generated by solar panels to be collected and transmitted efficiently, copper ribbons play a crucial role in connecting individual solar cells together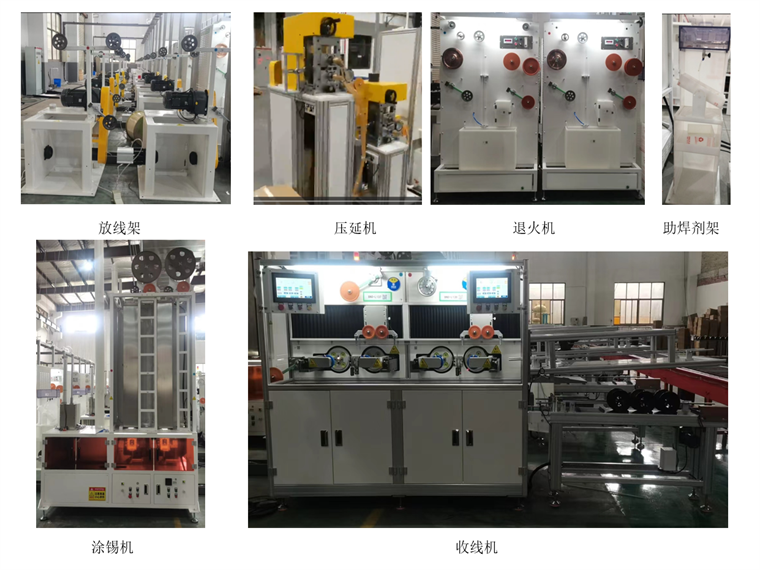 Specifications of

Copper PV Ribbon Machines

:
Designed speed: 500 m/min
Input Material: Copper wire
Input size: 0.26 ± 0.010
Output size:0.29 ± 0.020
Ingredients: Sn60Pb40
Solder thickness: 15 ± 5
Tensile Strength: Min 150 Mpa
Yield Strength: Max 75 Mpa
Elongation: Min 20%
An Overview Of The Production Line of

Copper PV Ribbon Machines
The MBB Double Head PV Round Wire Machine With Tin Coating, developed and launched by Sky Bluer Environmental Technology Co., Ltd. in 2023, is designed to produce PV Ribbon round wires at a maximum speed. A 550m/min with exceptional performance, unique design, strong compatibility, and superior free-flow characteristics during operation make this device the most reliable tool for handling PV round wires. The entire machine is controlled by a human-computer interface, a PLC, a touch screen, and a servo system. In order to ensure that the entire production line operates smoothly and efficiently, each motor rotates at a reasonable frequency during operation. In addition to being easy to operate, safe, and reducing labor costs, it improves productivity and efficiency.
The following are several common models from PV Ribbon products
Photovoltaic Busbar Production Line MBB Double Wire PV Ribbon Machine PV Ribbon Machine With Tin Coating Lines Photovoltaic Bus Bar Rolling Machine With Tin Coating Lines
Contact Us Today
Email:[email protected]
Mobile/Whatsapp:+86 13861313954
Website: https://precision-rolls.com/Products/
---
Previous:
Photovoltaic Busbar Production Line
---